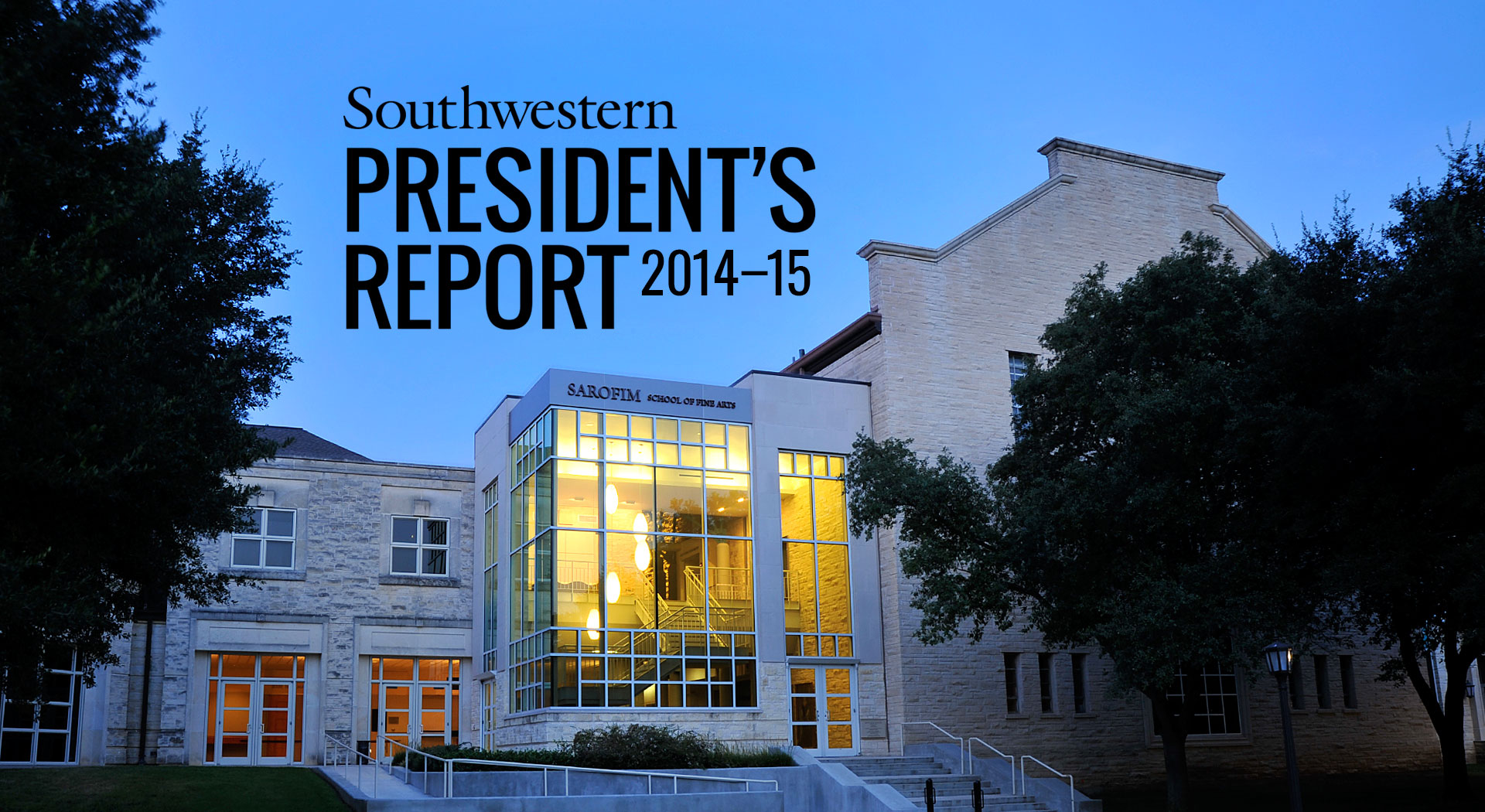 WELCOME
It is often true in academic settings that change happens slowly. After all, colleges and universities are meant to be places for deep inquiry with equally thoughtful and wise planning. At Southwestern University, we are nothing if not mindful of those elements that will have lasting impact on our community.
Still, many positive changes have occurred and much has been accomplished in the last 12 months. Academically, Southwestern flourished. As part of our distinct interdisciplinary educational approach, we introduced new Paideia cluster courses under the umbrella of seven cluster themes, which will inform a unique and more robust academic experience for students and faculty. Our enrollment and graduation numbers were also notable. Last fall, 438 new students matriculated, while 272 graduated the following spring, 27 percent of whom earned their degrees with honors.
Indeed, much has happened this year for which we can be proud. I am pleased to report the following achievements:
Three Fulbright Scholarship recipients were among our Southwestern family. Two students and one faculty member will have the opportunity to pursue their respective research interests around the globe.
Thirty-eight students were inducted into our chapters of the Phi Beta Kappa and Alpha Chi honor societies.
Among our student-athletes, 169 were designated as Academic All-Americans.
Students, faculty and staff members participated in the second annual daylong "From Every Voice" Research and Creative Works Symposium.
Our football team had its first win in more than 65 years.
Our women's basketball team won the SCAC Conference Championship and advanced to the first round of the NCAA Tournament.
New campus committee structures were set in place.
New colleagues joined the President's staff.
USA Today and US News and World Report ranked Southwestern as the top national liberal arts college in Texas.
All of these accomplishments and more are evidence of how far Southwestern has come since Martin Ruter established the first of our four root colleges back in 1840, perhaps even further than our pioneering founders could have imagined.
We must continue to create the future of Southwestern, where our accomplishments will grow beyond our own expectations. Thank you for supporting Southwestern University—Texas' First University. I hope to see you at Homecoming and Reunion Weekend, October 16-18, 2015.
Looking forward,

Edward Burger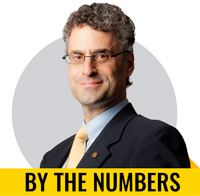 235
PERSONAL PHONE CALLS
TO ADMITTED STUDENTS
64
CITIES VISITED
1176
TWEETS SHARED
FROM @EBB663
61
STUDENT DINNERS
HOSTED
175th Anniversary
On February 5, 2015, Southwestern University celebrated the 175th anniversary of its original 1840 charter in a big way! The day began by marking the 65th anniversary of the Lois Perkins Chapel with an organ concert performed by Professor Emeritus of Music Ellsworth Peterson '55 and Instructor of Music Pamela Gregory Rossman '72, and a chapel service with the Rev. Laura Merrill '85 delivering the sermon.
Students, faculty, staff, alumni, trustees and community members gathered on the Academic Mall to form a giant "175", captured in an aerial photograph. Moving into the Red & Charline McCombs Campus Center, the crowd of nearly 1,100 enjoyed a huge birthday cake, live music by the SU Jazz Band, Congressional proclamations read by President Edward Burger, the presentation by students of an empty time capsule to be filled during the next year and buried on Charter Day 2016, and the announcement of Southwestern's largest-ever single gift of $5.1 million from Margaret S. Odiorne, the widow of Truman J Odiorne '66.
1066
PEOPLE IN THE
175 ANNIVERSARY PHOTO
500
SLICES OF CAKE SERVED
AT CHARTER DAY
400
BALLOONS DROPPED
AT CHARTER DAY
ACADEMICS
Southwestern's unique Paideia curriculum featured seven cluster themes this year, providing students with broader opportunities for interdisciplinary study and faculty-student collaboration. New students had the opportunity to participate in First Symposium, which showcases work resulting from the First-Year and Advanced-Entry Seminar experience. Students, faculty and staff also presented their work at the second annual From Every Voice: Research and Creative Works Symposium. And, for the 15th consecutive year, the King Creativity Fund supported selected innovative and visionary student projects.
2.945  OVERALL STUDENT GPA
2.945 OVERALL STUDENT GPA
74

%
PAIDEIA CLUSTER
THEMES OFFERED
LIBRARY BOOKS
CHECKED OUT
Fine Arts
88
STUDENTS PARTICIPATED IN THEATRE PRODUCTIONS
182
STUDENT ARCHITECTURE
PROJECTS CREATED
9
ART EXHIBITIONS
ON CAMPUS
ADMISSION
Students arrive at Southwestern seeking rigorous academics, nationally recognized career preparation, affordability and a completely unique college experience…and that's exactly what they receive. In the fall of 2014, 438 new students began their Southwestern Experience, many of whom learned of Southwestern through a friend or family member. Do you know any potential Pirates? Click here to refer a student to Southwestern.
1538
TOTAL STUDENTS ENROLLED
Of the 382 incoming first-years…
21%WERE FIRST-GENERATION STUDENTS(2 WERE IN OUR
UPWARD BOUND
PROGRAM)
37%WERE IN THE TOP 10% OF THEIR CLASS(69% WERE IN THE TOP 25%)
20STATES WERE REPRESENTED(AND FIVE COUNTRIES)
99%RECEIVED NEED-BASEDAND/OR MERIT AID
STUDENT LIFE
Campus Life
PARTICIPATED IN GREEK LIFE
OF 2015 GRADUATES STUDIED ABROAD
Pirate Training
Pirate Training helps new Southwestern students get to know each other while learning and experiencing University traditions both old and new. In fall 2014, 400 new students formed 12 teams who participated in 15 events over the course of two days, resulting in one Pirate Training Champion!
Civic Engagement
Career Services
STUDENTS ENGAGED WITH
CAREER SERVICES
STUDENTS PARTICIPATED IN
AT LEAST ONE INTERNSHIP
EVENTS HOSTED BY
CAREER SERVICES
ATHLETICS
Southwestern's 20 varsity teams participate in the NCAA Division III as members of the Southern Collegiate Athletic Conference. In 2014-15, the SCAC announced that 169 Southwestern student-athletes had made its Academic Honor Roll. To qualify, a student-athlete must maintain a minimum grade-point average of 3.25 for the term and be a regular member of a varsity athletic team in a sport sponsored by the conference. This year, Southwestern women's tennis dominated with all 12 members of the team earning a spot on the honor roll.
503
STUDENT-ATHLETES
IN FALL 2014
466
STUDENT-ATHLETES
IN SPRING 2015
ATHLETES NAMED TO
SCAC ACADEMIC HONOR ROLL
Southwestern Greats Return for Hall of Fame Inductions
Approximately every-other year since 1990, Southwestern has inducted up to four former student athletes and/or coaches into the University's Athletics Hall of Fame. The most recently inducted Hall of Fame honorees include: Ken McAllister '64, Danny Mickan '84, Ronda Seagraves and the 2007–08 women's golf team, for a total to date of 38 inductees. Read More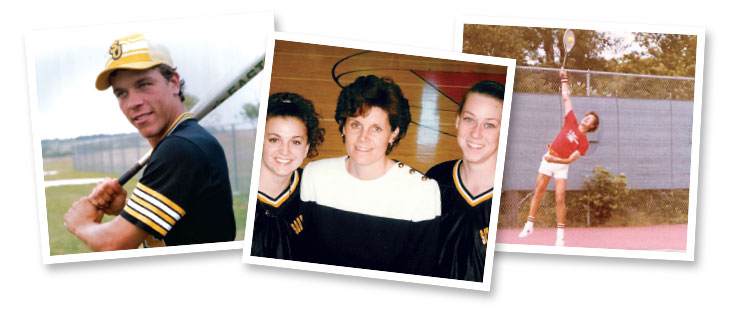 Top Four Moments of 2014–15 Season
ALUMNI
This year, The Association honored the achievements of the 2014 Distinguished Award Recipients; through a collaboration with the Office of Admission, The Association formed the Southwestern University Recruitment Volunteers (SURV) group and enhanced the Legacy Link program for the children and grandchildren of alumni; the Alumni Leadership Summit brought volunteers together for discussions about Southwestern's Wheel of Impact; and, The Association launched the Class Committee program to better connect alumni with one another.
70% Employed

22% Attending Graduate or Professional School or Engaged in Advanced Coursework

8% Seeking Employment or Volunteering
86% in Texas

10% Outside of Texas

4% International
Alumni Association
Distinguished Alumni
At Homecoming and Reunion Weekend 2014, The Association of Southwestern University Alumni presented their annual awards to seven deserving alumni and one faculty member each living out the University's Core Values on a daily basis, and representing its Core Purpose, "Fostering a liberal arts community whose values and actions encourage contributions toward the well-being of humanity," in his or her own unique way.
GIVING
During the 2014-15 academic year, Southwestern exceeded the Southwestern Fund goal, continued work on the new Science Center, celebrated a $5.1 million gift from Margaret and Truman J Odiorne '66, held several gift "challenges" — including the "Five in Five" challenge to raise an additional $5 million in five months, doubling the impact of the Odiorne gift — and received gifts from 2,567 alumni.
Gifts by Source
38% Estates and Trusts

35% Foundations and Corporations

11% Alumni

11% Other Individuals

4% Parents

1% Other Organizations
Gifts by Fund
42% Endowment

24% Capital Projects

20% Current Restricted

14% Southwestern Fund
Participation
CLASS OF 2015 PARTICIPATION
Donor Honor Roll
Your gifts help keep Southwestern University the number one national liberal arts college in Texas by supporting every facet of the academic experience, including small class sizes, groundbreaking research, and up-to-date facilities. Your gift, regardless of size, is an investment in students and faculty with the potential to change the world. Look for the 2014–15 Southwestern University Honor Roll of Donors this August (or check back here for a link). Names of all donors who made gifts to Southwestern from July 1, 2014 to June 30, 2015 will be included.
Giving Challenges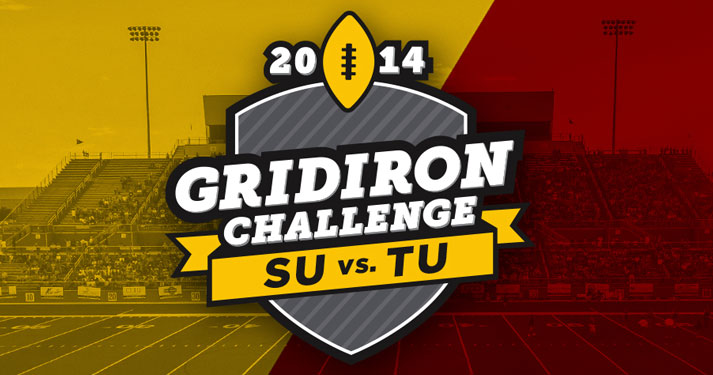 712 PARTICIPATED
$37,400 RAISED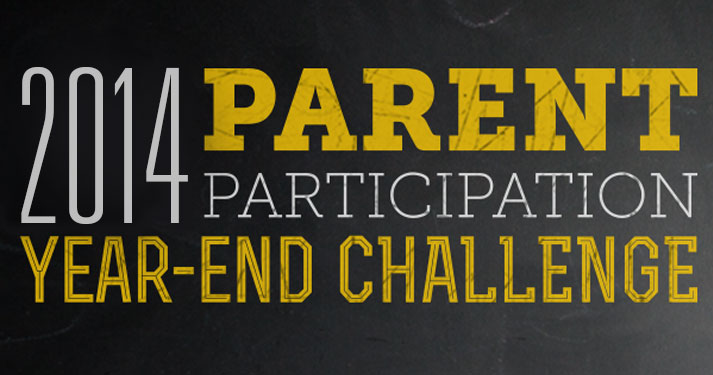 196 PARENTS PARTICIPATED
$47,000 RAISED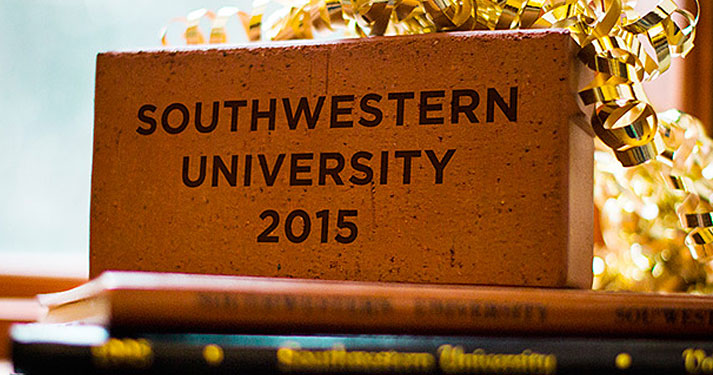 632 BRICKS PURCHASED
$95,575 RAISED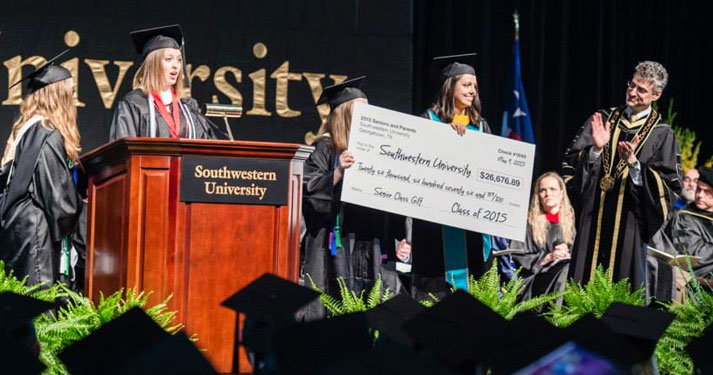 236 SENIORS PARTICIPATED (87%)
$3,687.41 RAISED
VISIBILITY
29817TOTAL MAGAZINES PRINTED THIS YEAR
153
TOTAL CLASS NOTES PRINTED
IN THE FALL AND SPRING ISSUES
12DIGITAL ISSUES DISTRIBUTED VIA EMAILTHIS YEAR
Most Viewed Online Stories
Social Media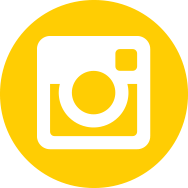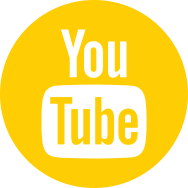 NEW YOUTUBE VIDEOS
POSTED THIS YEAR